I'll let you into a secret... one day whilst perusing a trade show for something completely different I might add (which is usually the way; you know you pop for milk & bread & £30 later!!!) anyway, I discovered the most fantastic drawstring bags that I knew my then 3yr old daughter & friends would absolutely love & were the catalyst that started Special Additions as I just had to have them for her forthcoming birthday party!
These were the ones don't you agree they're pretty unusual and a gift in themselves...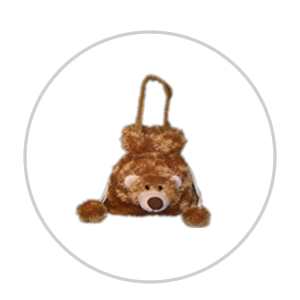 You see, I was sick of coming home from endless parties at the soft play centres or local village hall with a flimsy little plastic bag usually full of tut that got emptied & thrown away whilst the E numbers it contained resulted in another hour of energetic mayhem!
The only stumbling block was a minimum order of 1200 pieces to get my hands on these gems & we had only 15 coming to the party!
I placed my first order knowing they would be a sure fire winner & they went down a treat so from that day on turned my creative juices of becoming a children's bedroom designer to something more of a lifesaver (least that's whats been said since) taking all the hassle out of this, the party-planners main bug bear!
The change of heart that day came knowing friends & family loathed this bit of the party job list yet creating, themeing & attention to the smallest of details was a guilty pleasure of mine, spurring the decision to invest in the stock there & then. 
What's become so clear over the years & is backed up in many a marketing book is that when you can relieve a 'pain point' for someone whether that be time, convenience or playground points through having the perfect solution to offer its win-win all round. 
After all goody bags are natural add on item for entertainers, party venues & party agencies to offer & can be a highly profitable source of additional income if they're well thought through!
If you don't have the time to devote or know where to start in ensuring your party bags on point then send me a message or call on 01952 30 30 40 for some suggestions on how to get them right & working for you!